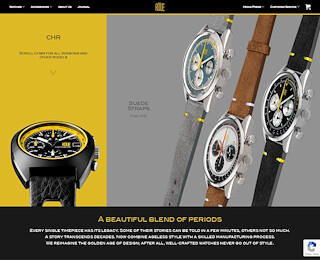 What Are the Best Designer Men's Watches?
Wristwatches have been an essential part of every man's outfit. These pieces will reflect the elegance and good taste of their wearer. Among the options on the market, mens designer watches are the ones that can most distinguish men, since they are practically unique pieces that will make a difference. It is essential to know which are the top men's contemporary designer watches so that you can make an ideal selection.
Stainless & Designer Watches: a Perfect Combination
If you are looking for what are good watch brands for guys & its models, keep in mind that in addition to design, manufacturing materials play a crucial role. Stainless steel is one of the favorites to watch manufacturing. It is a highly resistant and durable material. Besides, it has a more competitive cost, which allows for an excellent price/value ratio. It is a highly water-resistant material, and it is also one of the lightest materials. That is why this is one of the preferred materials by watchmakers.
By combining these qualities with an exclusive design, you will have a jewel that will give you the time, and also help you distinguish yourself. If you search for reviews of what are the top 10 watches, you will surely find several options with this combination.
What Are The Best Men's Designer Stainless Steel Watches?
TPS
SubCategory: Analog Chronograph Sport
This model is the top of the line in our collection. Inspired by 60's motoring, the TPS is a perfect combination of design and functionality. It comes with a pulsometer calculator feature and includes a chronograph and tachymeter. It is powered by the Seiko VK63 mega-quartz moremont automatic machine. Only 1000 numbered pieces of each one were made for more exclusivity, and you can choose between its three layouts.
CHR
SubCategory: Analog Chronograph Sport
Inspired by the motorsport era of the '70s, it has a clean design of modern lines. It is easy to read, in any of its three varieties to choose from. It has a chronograph up to 59 min/59 sec and includes a tachymeter. Its mechanism depends on the excellent Japanese high-precision Miyota 6S10 quartz movement chronograph.
SSD
Subcategory: Analog Sport
With its exclusive design accompanied by its 60-seconds subdial, this model is the best of the mens designer watches inspired by the '60s. The Japanese high-precision Seiko VD78 powers it. The exclusive Saphire Crystal completes an excellent combination of beauty and elegance.
HDS
Subcategory: Analog
This minimalist design evokes the beautiful and iconic German engineering of the '80s. It has a lovely double dial design. It is powered by the Japanese high-precision Miyota 2315 quartz movement and also features the extraordinary Saphyre Crystal Glass. It is eclectic, distinguished, & elegant.
CAL
Subcategory: Analog Sport
CAL combines modernity, simplicity, and elegance. It is a piece with an excellent price/beauty/value ratio. It is modern, minimalist, and reflects freshness and simplicity in a model that is ready for daily use. It has a precise dial with a calendar and works thanks to the Japanese Miyota 2315 quartz movement.
Get the Best Mens Designer Watches
If you are looking for what is the best men's wristwatch, Roue has the best for you. You will enjoy pieces made with the extraordinary 316 blasted steel, which provides excellent beauty and durability. All our models are 50m water-resistant and come with two wristbands and its exclusive secure interchangeable band system. Also, you will enjoy our two-year warranty on our entire collection. Sign up and start making a difference.